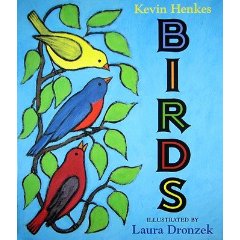 I'm always surprised when Kevin Henkes writes a book, but doesn't illustrate it.  I wonder why he chooses to do that?  In this case, Laura Dronzek's illustrations are so similar to his newest styles (as in A Good Day) that I am further befuddled.  
I enjoyed the simple clarity of color and line in this introductory book about birds.  I can imagine using it to discuss fiction/nonfiction with my preschoolers or kindergarteners.  They could dissect which statements are fact and which are fiction.  
Ivy said, "Let's read it again."  
Awesomeness: 7/10
Wordsmithing: 7/10
Factfulness: 1/10
Illustrations: 7/10